Fueling Economic Growth and Food Production in Pakistan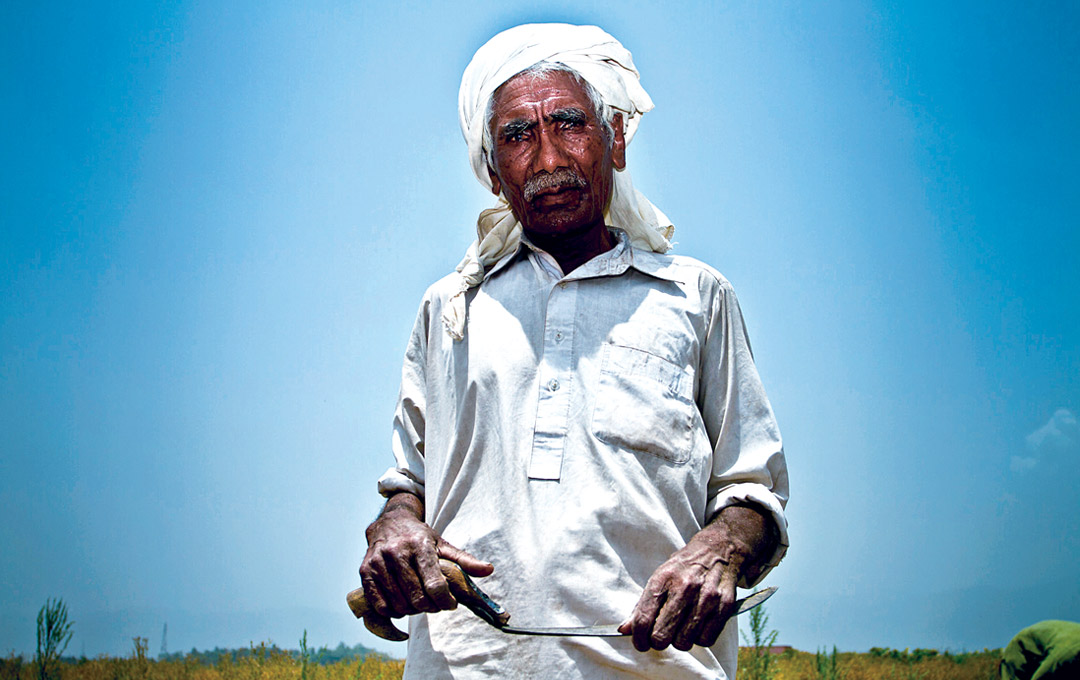 Pakistan ushered in a new era of integrated agricultural research in March 2013 when the Ministry of National Food Security and Research (MNFSR), CIMMYT, three other international agricultural research centers, the University of California at Davis (UC Davis), USAID, the Pakistan Agricultural Research Council (PARC) and key agricultural leaders from throughout Pakistan gathered in Islamabad to announce the Agricultural Innovation Program (AIP).
Under this US $30 million initiative funded through USAID, Pakistani and international scientists are working with farmers in cereal, vegetable and livestock systems to revitalize science-supported innovation, building on the country's long history of international collaboration in agricultural development
"The program will develop a science-driven model to improve the livelihoods of Pakistan's agricultural producers and enable economic growth," Dr. Shahid Masood, PARC plant scientist, told the Pakistani newspaper The Nation. "The international and Pakistani partners involved are dedicated to research, collaboration and investments that will ensure success."
An Integrator for Development
Agriculture accounts for more than one-fifth of Pakistan's economy and two-fifths of the country's employment. Low economic growth and higher prices for foods like wheat have increased the number of the food-insecure poor. Expanding urban areas require more food, while farmers are squeezed by rising production costs, fluctuating market prices, water and soil degradation and climate change. Wheat is sown on 40 percent of Pakistan's arable land, often in rotation with rice or cotton, and provides some 37 percent of food energy and protein in Pakistani diets, according to a 2013 FAO study. But farmers also grow maize, sugarcane, fruits, lentils, chickpeas, tobacco, rapeseed, barley and mustard, as well as raising farm animals for milk, beef, mutton and eggs.
Pakistan's complex farming systems are finding support in the diverse portfolio and institutional mix of AIP. With overall management from CIMMYT, the Program also draws on one of the most extensive collaborations of international research organizations, including the International Livestock Research Institute (ILRI), the International Rice Research Institute (IRRI), (UC Davis), ICARDA and the World Vegetable Center (AVRDC). UC Davis is helping to link with U.S. science and innovation via AIP's human resource development component, which is also engaging Pakistani women scientists. PARC is the hosting partner and will oversee the competitive grants portfolio and ensure that AIP is led and executed by national partners.
"The AIP is already fostering a demand-driven, results oriented science research community and enhancing linkages among Pakistan's agricultural research and innovation communities, the wider global community of agricultural scientists and the private and civil society sectors," said Dr. Muhammad Imtiaz, CIMMYT's Pakistan country liaison officer and AIP project leader
A Rich History of Collaboration
The work builds on a Pakistan-CIMMYT relationship that spans five decades. In 1961, Pakistani FAO trainee Manzoor Bajwa, who was working with Norman Borlaug, selected Mexipak, a high-yielding wheat that went on to become Pakistan's most popular variety. After importing Mexipak seed from Mexico, Pakistan harvested 7 million tons of wheat in 1968, making it one of the first countries in Asia to become self-sufficient in the crop.
Most of Pakistan's wheat crop (24 million tons in 2012) is produced with varieties derived through joint Pakistan- CIMMYT breeding research. The Pak-81 line, also selected by a Pakistani wheat breeder training at CIMMYT, has since been released in more countries than any other wheat variety. Finally, during the 1990s-early 2000s, CIMMYT supported Pakistani research efforts to launch conservation agriculture in South Asia.
The rest of the world profits from these successes, as evidenced by Pakistan's contributions to the selection and impact of both Mexipak and Pak-81. According to PARC Chairman Dr. Iftikhar Ahmad, "It must be a twoway process in that Pakistan must also contribute to international science."
The AIP also complements the work of the Wheat Production Enhancement Program for Pakistan (WPEP), a program involving PARC, the government of Pakistan, ICARDA, 11 other national partner institutes in Pakistan and three U.S. Department of Agriculture/Agricultural Research Service (USDA-ARS) units, with support from USDA and implementation by CIMMYT.
For more information, contact Muhammad Imtiaz, CIMMYT Pakistan country liaison officer.